Specification & Tender Docs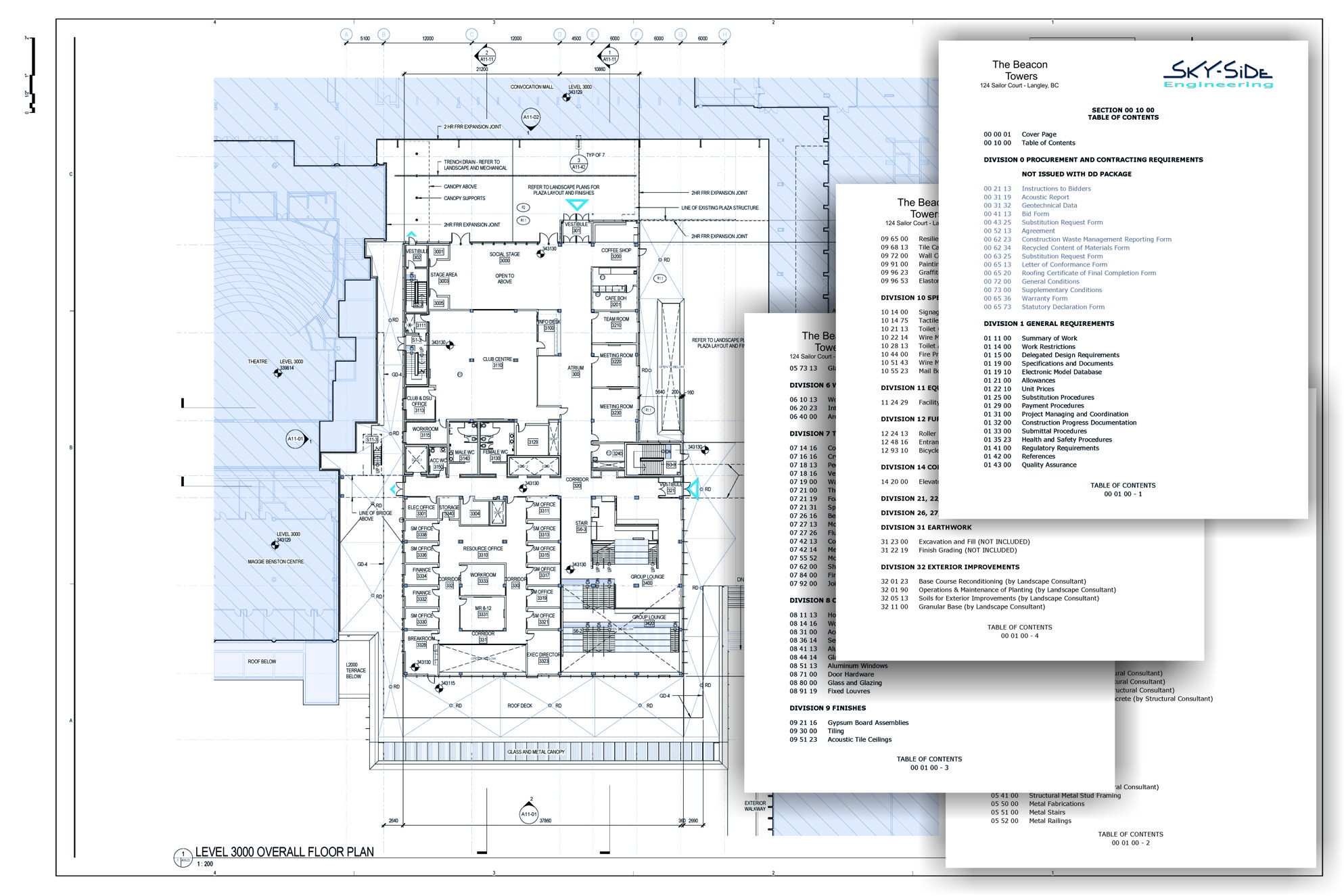 Construction Specifications
Specifications are a detailed description of each particulars part of a projected work in any design, engineer or construction discipline by stating the dimensions, material content, quantities, and performance of the work. The technical specifications also give the directions to be followed by the designer, builder or constructor. A specification defines the items that are to be produced, services provided, and the performance required of them.
Sky-Side Group develops design and engineering standards that address safety, energy efficiency, sustainability and durability. Building owners look to Sky-Side Engineering to help improve efficiency in design, manufacturing & construction and to help manage risk. With more than 20 years of experience, we are your trusted source for technical expertise in standards development.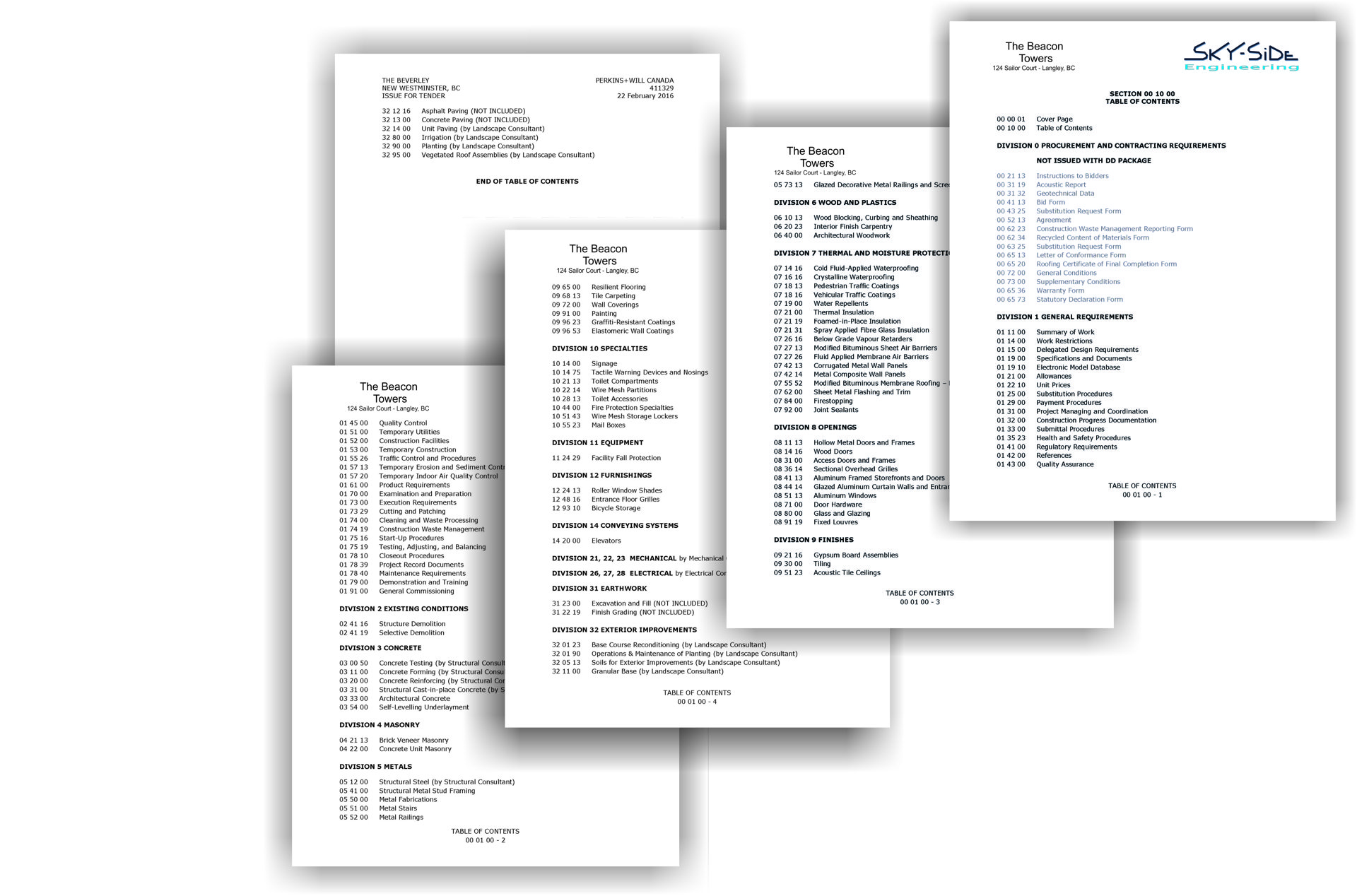 Why are Specifications needed?
Specifications are important to:
make sure the owner or client gets the products and service he wants or required;
equating expenditure with a budget; and
Define and communicate to the contracting party precisely what is wanted or needed.
Because they are the basis of all design, engineering and construction contracts, technical specifications must be written with professional care. Conversely, badly-written specifications cost time, money and can generate mayor issues.
The preparation of specifications is the first and most important step in any contract negotiation. Without them, cost studies, estimates, schedules and contract responsibilities are difficult to define. Well-written specifications must:
Eliminate contract and scope misunderstanding and difficulties
Define performance objectives
Avoid maintenance issues
Meet budget and quality objectives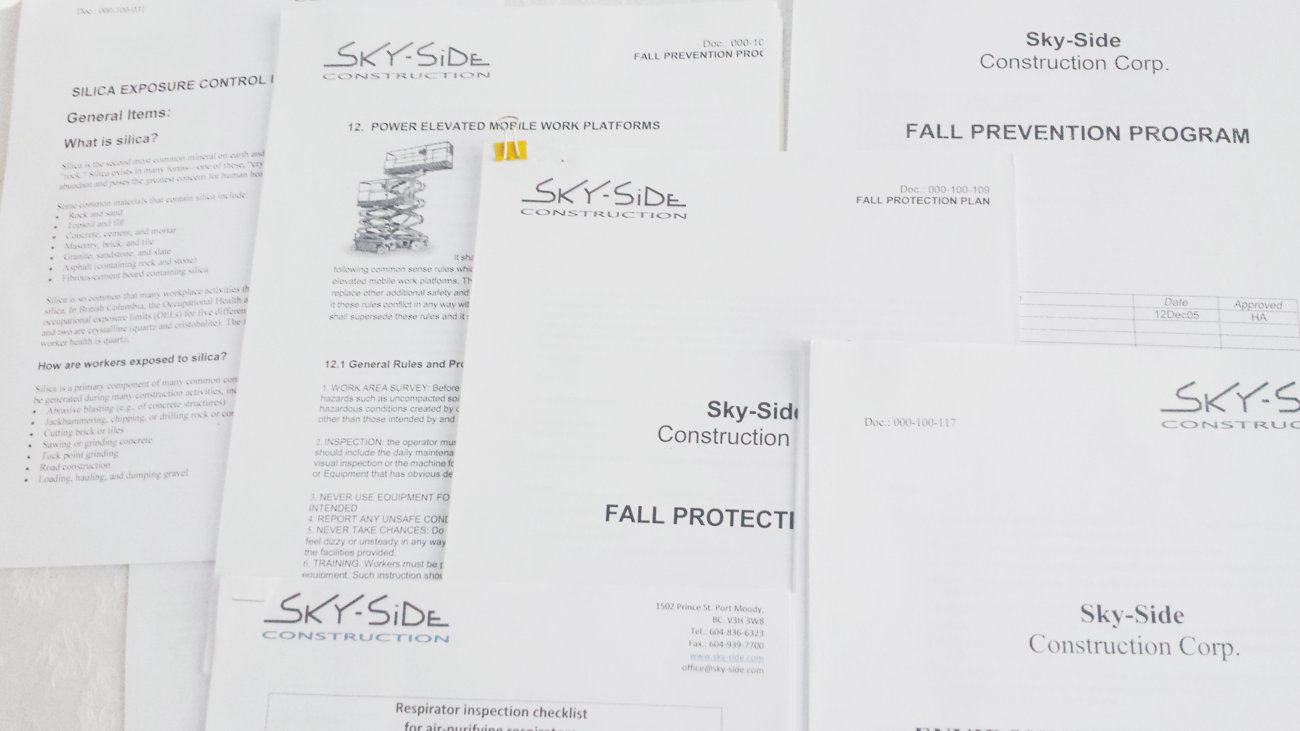 Tender / Construction Documents
The elaboration of Construction Documentation includes the application of project management and professional practice knowledge and skills, including the preparation of contract documents and contract administration. Incorporate building codes, specialty codes, zoning, and other regulatory requirements in construction documents and services.

Sky-Side has the capability of working on projects from the Schematic Design stage to Design Development and Construction. In fact, a lot of our work includes completing Architectural Design, Specification and Construction Documents for our clients. Our team of experienced and qualified architects is able to do a great job and provide first-rate Construction Documents and Services.
Sky-Side business mission, focus extensively on quality and accuracy of architectural construction documents . To accomplish this, we ensure that architects who understand the client's desire; work on your Construction Documentation. We use our extensive knowledge for your advantage and our architects execute the entire process of making architectural construction documents set.
For your construction documents you definitely need a vendor with experience of handling projects of different size and types, specialized in restoration of building envelope. Our experience will help you in the following ways:
Save extra costs of extra professional staff. We will provide you a consistent & dedicated team of architects for a specified time trained in a variety of tools and software applications.
Accurate and flawless Architectural Construction Documents with attention to detail
Time to focus on your core competencies and spend more time designing, client management
Fast turnaround time, which will help you increase your efficiency
To ensure the best of your construction documents we follow a methodology designed to ensure timely delivery of your architecture Construction Documents at competitive prices. Following are some of the highlights:
Define with our client the final objective to be accomplish
Initial study of the past Construction Documents completed by the client's team to understand the standards and previous expectations
A realistic work schedule, well-thought and well-defined
Project reviews in-depth and in various stages of the project
Three level quality check process on the final drawings
Each document written by our team follows a quality control procedure. Quality is the singular consideration in our construction documents process. Our in-house quality assurance team and the project team work in perfect cohesion to provide an effective quality assurance and quality checking process that goes from self check, peer check and supervisory check.
There are several parameters to control the quality of our documents. All start with a effective communication with the client, strict adherence to the initial schedule as decided with the client, cross reference between specification sheets, drawings and detail sheets, architectural elements contained in the documents, output quality from drafting point of view.
Established in 2004, Sky-Side provides engineering and construction services related to Building Envelope & coatings for new or existing buildings. For existing building we offer services for the inspection of buildings envelope or facade, engineered solutions to issues, repair, renovation, application of elastomeric coatings, pedestrian traffic coatings, vehicular traffic coatings, epoxy coatings, and waterproofing coatings. Our services for new buildings include building enclosure design and consulting. Elastomeric coating / painting of building envelope, application of liquid waterproofing to eyebrows, traffic coating on balconies and rooms, traffic coating on parkades, epoxy coatings,  application of energy efficient systems and application of self sustain building systems.
Our Building Envelope Design and Consulting Group investigates, evaluates, designs / engineer repair solutions and provides construction / repairs work to all exterior building envelope components including roofs, walls, windows/glazing, caulking, coating and waterproofing. We specialize in all issues related to material deterioration, moisture intrusion and assist owners in the process of inspecting no accessible areas of the building envelope or façade, design solutions to specific issues, repairs and restoration. We help as well architectural firms and clients with peer review consulting on new construction projects. We also provide forensic and expert witness services, and preventative maintenance programs. Our clients include private sector commercial and institution users, as well municipal agencies.
Our business is permanently updating. Building envelope systems as well as coating material and techniques are constantly evolving in search of better performance, less cost, and more elegant appearance. This makes the design, procurement and construction of the building envelope a highly technical and complex process for which the demands of a building envelope specialist's knowledge are needed. Next to the structure, building envelope construction is often considered to be the highest risk of any project.
On the engineering side of our business we provide services including but not limited to:
Inspection of buildings envelope / facades, roof, wall, window/glazing, sealant, coatings, concrete failures and waterproofing issues.
Evaluations and investigation of failures and design solutions.
Structural engineering related to building enclosure renovations and repairs.
Construction phase assistance
Building enclosure management and maintenance programs
Commissioning on new construction and renovations pertaining to air and moisture control, vapor drive, thermal insulation, (infrared test) and related exterior enclosure issues.
Concrete restoration, repair, protection, and structural strengthening
Forensic evaluations related to premature failure of construction assemblies
On the Construction side of our business we provide services including but not limited to:
Our service areas in BC includes: Vancouver, Burnaby, New Westminster, West Vancouver, North Vancouver, Deep cove, Horse Shoe Bay, Squamish, Whistler, Port Moody, Coquitlam, Maple Ridge, Mission, Surrey, Richmond, BC, White rock, Boundary Bay, Langley, Abbotsford, Chilliwack, Hope, Pit Meadows, Victoria, Nanaimo, and all other cities in BC Canada.