SERVICES:



SKY-SIDE Construction Corp.
1502 Prince St., Port Moody, B.C. V3H 3W8
Tel.: 604 836 6323
Fax.: 604 939-7700
office@sky-side.com
www.sky-side.com

SKY-SIDE SPECIALITY IS ON INACCESSIBLE PAINTING AND MAINTENANCE
OF INDUSTRIAL AND HIGHRISE FACILITIES
INDUSTRIAL PAINTING AND COATING
Sky-Side is a full service contractor specialised in industrial painting. When talking about painting and protection of heavy steel and industrial concrete, Sky-Side offers the knowledge and expertise of painting  bridges, tanks painting, pipes painting, warehouses, heavy structures, manufacturing plans painting, silos painting, machinery painting, ship painting, etc. We are familiar with epoxy paints, acrylic paints, alkyd, antifoulings, organic and inorganic zinc, coal tar epoxies, urethane and polyurethane paints, ceramic paints and elastomeric paints. We apply them all under the latest EPA standards.

If you are looking for paint and protection of rusted steel corners and rust on steel surfaces Sky-Side is your option.  Our teams are familiar with rust cleaning, preparation, application of chemical cleaners, graining, shot and sand blasting, rust inhibitors etc., paint and coating application with epoxy, urethane, polyurethane or silicon based products.
E-mail us: office@sky-side.com

There is no inaccessible area for Sky-Side. Our teams have formal training and are certified to use bosumchair and scaffolds. If you think that some areas of your building or facilities are inaccessible you definitely need to call us.
Call us for a quote or a sample of our work. We will be happy to show you what we can do to fix the rusting on your facilities
Call us: 604 836 6323
HIGH RISE PAINTING AND COATING
Sky-Side has a special passion for high rise buildings. We understand that exterior and interior paintings are two completely different jobs. They require different product, different material, different equipment and different skills. Hanging 360 feet above ground level and coating a building with the right material and thickness requires the expertise of Sky-Side.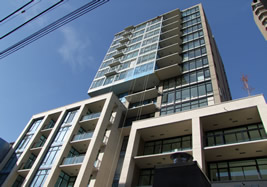 E-mail us: office@sky-side.com

If you are planning to use silicon based elastomeric or, urethane based elastomeric we are the experts.  We are well aware of the quality and requirements of each material and how to get the best advantage of the material. Each of them have a different shelf live, different coverage per gallon, different thickness achievable per coat, different color change when dry and, especially a quality achievable.  Whatever the product you choose Sky-Side will match the warranty of the paint manufacture.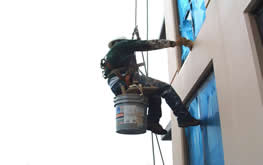 Our employees are experienced and certified in the use of bosumchair and scaffold.
When the leaky condos were a common issue,  our exterior painting and liquid waterproofing expertise were in demand.  We understand that exterior painting is not a simple color application but a complete waterproofing membrane that wraps the building as with a blanket.
Call us: 604 836 6323
COMMERCIAL AND RESIDENTIAL PAINTING

Painting is one of those things that everyone fees capable of doing and in many cases it is correct, especially when it is interior and in your own property where there is no risk to take. But when your name and warranty is there for five or ten years, then , it is better to know what you are doing.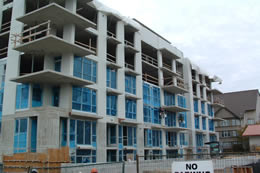 Peeling ,  flaking, cracking, blistering, wrinkling are common paint failures. When the surfaces are not well prepared, there is incompatibility between the surface and the paint or when just it is the wrong paint for a particular environment.  Many times our service was hired to fix someone else's job.

Paints can be classified by their use, residential, commercial and industrial. This is one of the ways paints can be classified. The reality is that there are thousands of products and hundreds of application systems, each designed to specific applications. Industrial painting and exterior highrise painting are far more complicated than commercial or residential painting and specific skills and risk are associated to each application.
E-mail us: office@sky-side.com

We know our business and the importance of surface preparation. We have  enough time in the business and have enough experience to give the right care to surface preparation. Every square inch is a potential issue. At Sky-Side we have the slogan that every square inch counts for good or bad. Many mistakes happen when walls are not prepared or missing borders, corners and hidden spots.
A professional has cuts close to perfect, no dripping, no brush hairs on the wall, no bubbles, no debris, no differences in thickness, uniform color and texture, same orientation of lines and of course no overspray around.  Then, what is so simple is not anymore and quality shows.


Sky-Side understands the differences in products. An oil paint and a latex paint require different application and preparation and tools and techniques. Our experience helps.
We see paint in their two functions a) to give color and aesthetic finishing and b) as a mean of protection – waterproofing, moisture protection, oil stain etc..  Depending on the surface where the paint is applied and the type of protection required the recommended paint will be specific and the application unique.
Call us: 604 836 6323
Sky-side at "The Pure" project of Bogner Construction in Downtown Vancouver, BC.
read more >